21.07.2022
Congratulations to our future colleagues on graduating!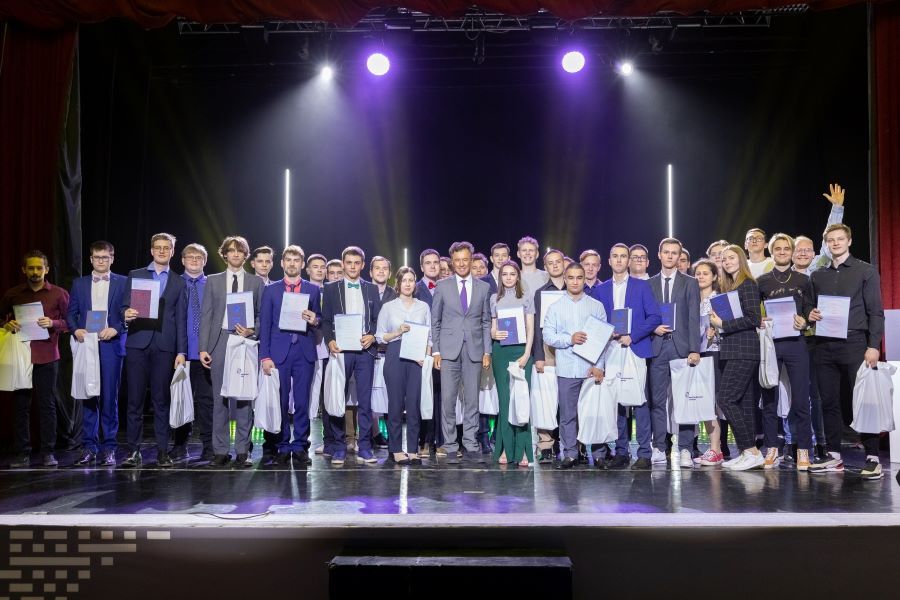 Perm National Research Polytechnic University (PNRPU) hosted a diploma award ceremony for graduates from the faculty of chemical technologies, industrial ecology and biotechnology. Rashid Shakirov, Deputy General Director of Metafrax Chemicals for Personnel and Social Affairs, took part in the ceremony. He presented diplomas to the graduates who had studied under contracts with the company.
"Metafrax has the largest group of graduates in PNRPU this year. Only at the faculty of chemical technologies there are 38 contract students. Very soon they will come in our company for employment. I congratulate our future colleagues on graduating! I wish them the quickest adaptation at work, successful professional and career growth! From our side, we try to create all necessary conditions for this. Now, for example, we are solving the housing problem of the new workers. We will move them to a high-rise building recently constructed by Metafrax Group in the Khimik neighbourhood", said Rashid Shakirov.
According to Mikhail Voroshilov, Chief Specialist of Social Development Department at Metafrax Chemicals, the graduation theses of PNRPU students who defended their theses in 2022 contain proposals for upgrading all existing production facilities of the company without exception. In particular, the presented projects include an increase in the productivity of the methane steam conversion furnaces in methanol production, as well as a new cooling tower for the cooling water cycle of the CFC units, a waste heat boiler for the concentrated formaldehyde unit, and even a third column for the main distillation of methanol production.
"I would not single out particular graduates according to results of their defence, but on the whole I would note their sincere interest in technologies used at Metafrax Chemicals, their implementation and striving for immediate employment at the enterprise", noted Mikhail Voroshilov.
---
PJSC Metafrax Chemicals gives school graduates the opportunity to obtain higher education under contract. It is a format of interaction in which the company signs an agreement with a potential student, pays his/her tuition fee, pays a stipend depending on the progress and provides a guaranteed job after the successful thesis defence. The student, in turn, undertakes to work in the factory for 5 years after graduation. Among the educational institutions the applicant can choose from are Perm National Research Polytechnic University (PNRPU), Perm State University (PSU), Ural Federal University (UrFU, Yekaterinburg) and Kazan National Research Technical University (KNRTU).